Wedding Bags
These bags make an incredibly unique and novel wedding gift. Not only are they useful and practical, but also they serve as a gift that will go on to commemorate that special day or event for years to come. They can be used to memorialize any special day or event from weddings to anniversaries, birthdays to graduations or whatever the occasion.
You can also put another gift inside this locking bag or even just stuff it with some money, which is always well received!!! The bag just by itself will make a wonderful gift to let that special person (s) know you went that extra little distance to get them something special and different. The clear vinyl window on bottom center of the bag can be used to insert a wallet size photo.
The bag shown here is a TAB/8-PDL-1, which is 12 inches wide by 8 inches high. This bag comes in a wide choice of fabric and trim colors like all my bags and aprons. In addition to my regular colors, these bags come in lighter colored fabric like white and natural plus pastel trim colors.
(Click On Thumbnail Picture Below to See Larger View)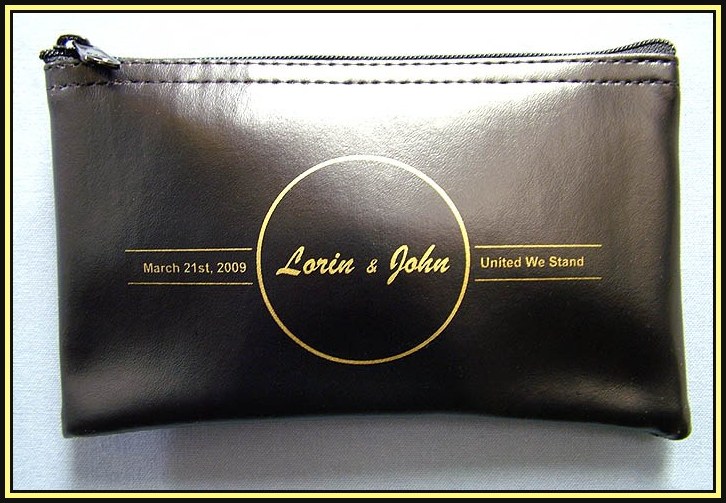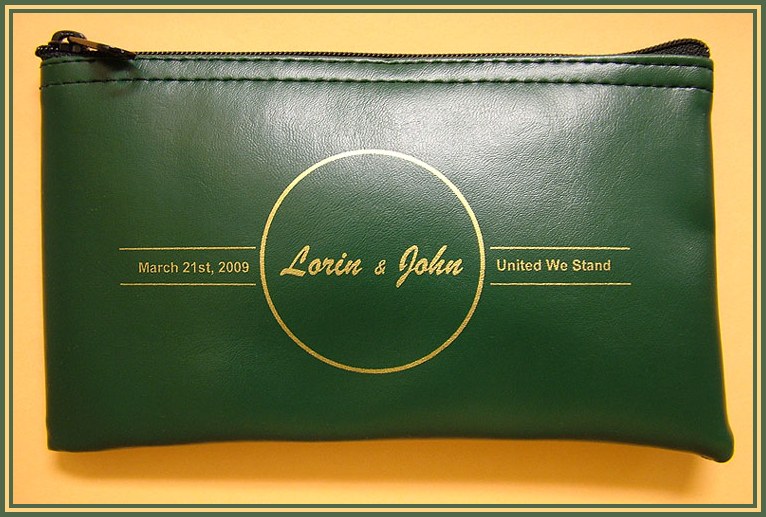 The bag shown above is our VBB-47 - ( 4"h x 7-1/2"w ) which is one of our most popular promotional - give-away bags. The reason for this is because it is an ideal uni-sex bag which could be used as a zipper wallet or purse. A dollar bill would fit down inside comfortably because it is slightly oversized for just that reason. The bag shown here has optional screen printing which is much cost effective for larger quantities. For just a few bags with limited words our HOT STAMPING makes an economical way to personalize a bag. With screen printing your limit for printable area is about a 2-1/2"h x 5"w window. The bag serves as a GREAT way to commemorate, celebrate or memorialize any special event or occasion. Not only is a novel gift, party/wedding favor, but a very practical and useful one as well which will be used by most recipients for months and even years to come. The bag is available in over twenty different colors in out expanded vinyl. Please inquire with any concerns or questions. It would be our pleasure to lay out any text for your printing needs at NO CHARGE! Of course we can make this style in any desired size...

Contact Us | Company Philosophy | CCAO Company Info | Order Form
Brochure/Information Request | Bag & Pouch Information | Fabric Colors & Trim Colors
Bag & Pouch Pictures | Products Center | Product Options | Urgent Response Link
Site Map | Home