Bank Bags - Money Bags - Pouches
We manufacture and distribute various styles of currency bags and pouches for a wide variety of uses. Our company is extremely diversified and we can fill large orders or accommodate an individual with a custom request. We make locking bank bags, money and coin bags and pouches of all sizes constructed from a wide array of fabrics depending on required application.

Over the years we have provided bank bags and pouches for practically every imaginable industry and operation. To have pictures or descriptions of all the many styles we have built in the past on our website would be endless. We cut and sew on a daily basis and are able to fulfill custom orders within twenty four to forty-eight hours in most cases. We also stock many bags in a vast assortment of styles and colors, which are ready for same day shipment.

Whatever you may need in a specialty bag or pouch we would and do welcome the opportunity to satisfy your needs. We will do what is required to help you achieve your intended task that you have. Whether you need a fabric bag to put in nuts and bolts, rare coins, diamonds to dollars to documents we build the bag!

Whether you are a bank looking for money/deposit bags, or a baker looking for fabric bags for your delivery drivers to put their receipts, orders or truck logs in, we can help. Please give us a call on our toll free line and let us help you eliminate one of your tasks for the day in trying to find someone who can help you with your project. We are only a free phone call away....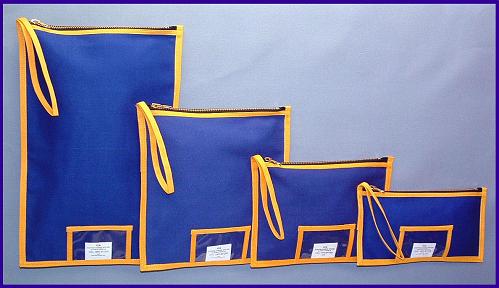 Contact Us | Company Philosophy | CCAO Company Info | Order Form
Brochure/Information Request | Bank Bag & Pouch Information
Fabric Colors & Trim Colors | Bank Bag & Pouch Pictures | Products Center
Product Options | Urgent Response Link | Site Map