Vinyl Bank Bag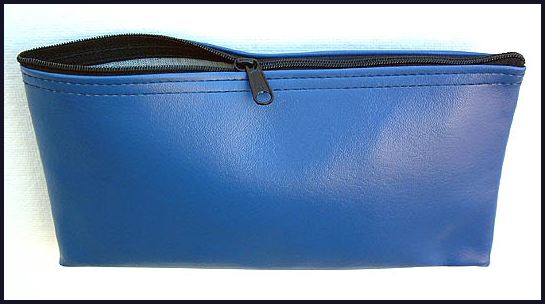 VBB-611
This VBB-611 style bag/pouch is very useful for many operations. The stock bag shown here is approximately 6 inches high by 11 inches wide. The outside vinyl has a textured "leather like look" in appearance. This is our most popular size and style vinyl bag. Because of the vinyl laminate, which can be wiped clean, they are a good choice for areas that may be exposed to dirt. This bag has a nylon coil zipper.
These are also very popular for a promotional bag. We can also print anything that you may need on any of these style bags. You can provide camera-ready artwork or we can help with design. Please contact us with your special printing needs. As in all our bags we can make this bag in any custom size you may need for your intended use. This will be priced according to size.
In larger quantities of 125 or more we will NOT CHARGE a printing fee for one side one color process if you provide the camera ready artwork. Please contact us about special pricing and any custom needs that you may have. For smaller quantities of bags that need some type of printing be certain to visit our page on HOT STAMP PRINTING.

If you may consider printing on your bags, you can also take a look at our Visual Library to get a liitle idea of some screen-printed bags with a variety of layouts just to give you a reference point as well as some further information on printing and the general process.

Fabric Colors < (Click here to view colors sample charts) PRICING AT BOTTOM OF THIS PAGE


Wedgewood Blue Dark Blue Lake Blue Navy Peacock
Antique Gold Peanut Persimmon Mocha Sugar Brown
Teal Aqua Irish Green Moss Hunter Green
Pure White Ghost/Grey Red Purple Yellow
Ebony/Black Eggshell Burgundy
We stock: Aqua, Antique Gold, Black, Burgundy, Ghost/Grey, Hunter Green, Irish Green, Navy, Peanut, Purple,
Teal, Red, White, Yellow
Minimum order is 3 bags - you can mix colors to obtain minimum
All other colors the minimum order is 8 bags
Price
VBB-611 - 1 - 6 pouches @$4.85 each
VBB-611 - 7 - 12 pouches @$4.60 each
VBB-611 - 13 - 18 pouches @$4.10 each
VBB-611 - 19 - 36 pouches @$3.60 each
VBB-611 - 37 - 75 pouches @$3.15 each
VBB-611 - 76 - 150 pouches @$2.75 each
VBB-611 - 151 - 225 pouches @$2.45 each
VBB-611 - 226 - plus pouches PLEASE INQUIRE

FREE PRINTING ONE SIDE - ONE COLOR
ON ORDERS OF 125 OR MORE