Funeral Home Document Portfolio Bags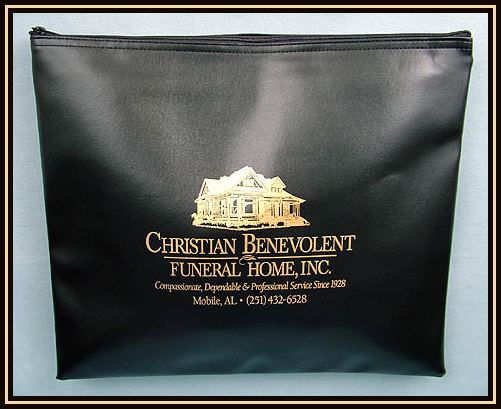 FHDP-135
This style bag in the size shown above is our most popular document portfolio bag used throughout the death care profession and funeral home industry. The bag shown here is approximately 13-1/2 inches high by 16 inches wide. It is generally given to the family, or person that is has taken responsibility for the decedents funeral arrangements. Certainly this style bag IS NOT just limited to the outlined industry! These bags have endless uses for thousands of businesses where one may put papers, manuals, documentation, etc. inside. The other three most popular document-paper storage size bags are: 11-1/2"h x15"w, 12"h x 16"w, 14"h x 18"w
They are very useful and add a professional and thoughtful way to organize the various documents and legal papers that would coincide with an individuals passing. These would include things such as the guest register book, legal papers, cemetery deed, acknowledgments cards, and other personal related documents. This size bag usually accommodates all of these articles which makes it the most popular by far.
These bags are made from a very durable and long lasting textured ( leather like look ) vinyl which will last for years. It is available in 23 different colors choices. We can imprint the name of your establishment (s) or any message you desire. Most common are the name, address, city, state, zip code, and most importantly your telephone number. We can imprint any custom artwork or logo you may have developed for your establishment. We also have clip art and industry logos to choose from as well.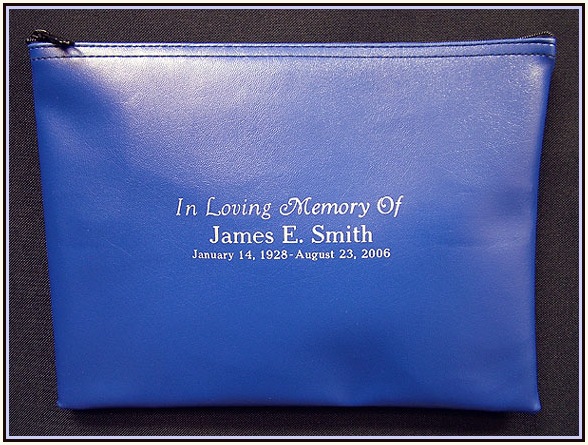 Below are 8 sizes which are most commonly used. Some of the smaller size bags are used for the transfer and confinement of personal items such as jewelry.
There is no charge for the basic setup and type setting that you may require to complete your intended objective. There is a plate/screen charge on orders of 104 or less. We would be happy to help you with the layout and design of any and all bags that would be of use to the professional and thoughtful image that we are certain precedes your establishment already.
We custom build bags everyday one at a time and can produce any size that you may need for your intended task.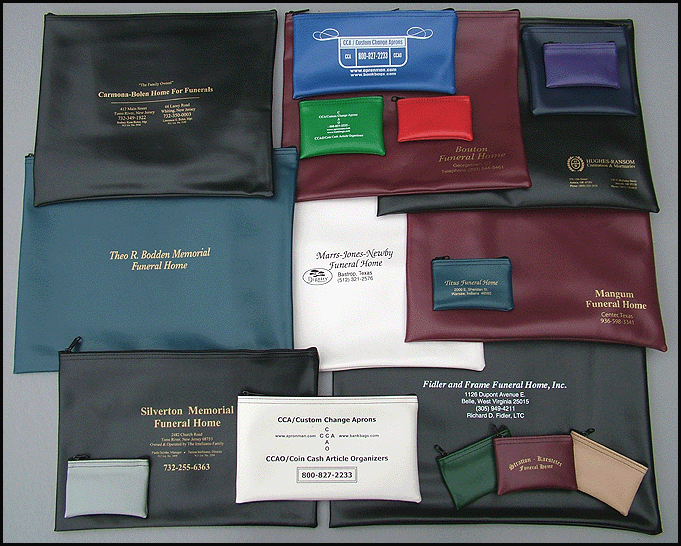 Below, the height-top to bottom is the first number, the width-left to right (zipper size) is the next number.
STYLE NUMBER BAG SIZE
FHJB3 3-1/2"h x 5"w
FHM912 9"h x 12"w
FHDP115 11-1/2"h x 15"w
FHDP116 11"h x 16"w
FHDP126 12"h x 16"w
FHDP135 13-1/2"h x 16"w
FHDP148 14"h x 18"w
FHDP160 16"h x 20"w
h = Height - w = Width
Please call toll free 877- 265 - 2247 for pricing. We will extend special pricing to bona fide professional establishments that are in the Funeral Home - Death Care Profession...