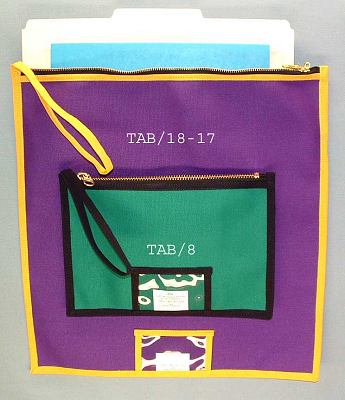 TAB/18-17/PDL-1 & TAB/8
The larger (purple w/gold) bag shown here is a TAB/18-17/PDL-1*. The bag placed over it (green w/black) is a TAB/8. The TAB/8 measures 12 wide by 8 inches high and the bigger purple bag measures 17 inches wide by 18 inches high. The smaller bag has been placed over it just to give you some type of size comparison as well as the 2 folders that are exposed from the top edge of the big bag. These folders are legal (manila) and standard (blue) size file folders. These folders give you a reference point of the size of the opening at the top of the bag.
ALL TAB BAGS CAN BE EASILY ALTERED IN HEIGHT JUST BY ASKING!
*This bigger bag has the optional padlock PDL-1 style locking zipper.



Contact Us | Company Philosophy | CCAO Company Info | Order Form
Brochure/Information Request | Bag & Pouch Information
Fabric Colors & Trim Colors | Bag & Pouch Pictures | Products Center
Product Options | Urgent Response Link | Site Map | Home